Welcome to the Super Mario 64 Official Wikia
Welcome to the Super Mario 64 Official Wiki! This wiki is entirely appropriate and anyone can edit! This is wiki is all about the Super Mario 64 and Super Mario 64 DS games for N64 and DS. Both games are no longer being sold, but sources such as eBay and Amazon are good ways to find these games!
This wiki is by fans, for the fans!
Please read our Rules and Guidelines before editing.
Everything that is part of or related to the Super Mario 64 series is owned by Nintendo, Inc.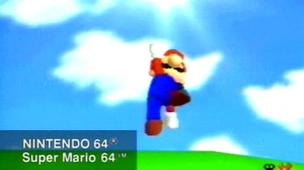 Mario 64
The game Super Mario 64 was released in 1996 for the Nintendo 64. The game was highly loved for its stunning 3D graphics, colorful objects, and lots of fun. The game later was ported to the DS under the title Super Mario 64 DS which was just as good.
What world do you play the most?
Also, check out upcoming/previous polls here!
Ad blocker interference detected!
Wikia is a free-to-use site that makes money from advertising. We have a modified experience for viewers using ad blockers

Wikia is not accessible if you've made further modifications. Remove the custom ad blocker rule(s) and the page will load as expected.